Welcome to
The Grand Tour Wiki
Jeremy Clarkson, Richard Hammond and James May are back with The Grand Tour after a small, hardly worth mentioning fracas cut short their time on BBC Top Gear. The Grand Tour is a show about adventure, excitement and friendship… as long as you accept that the people you call your friends are also the ones you find extremely annoying. Sometimes it's even a show about cars. Follow them on their global adventure. What could possibly go wrong?
Episodes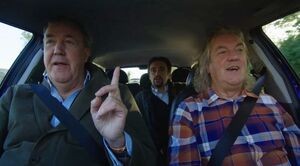 Air date: 12th April 2019
The Cotswolds, United Kingdom
Jeremy Clarkson
,
Richard Hammond
, and
James May
end the final series of the current format of the show with a tribute to the Mid Sized Ford Saloon.