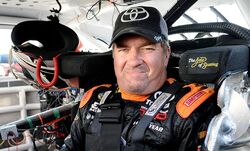 "The thing is Amazon insisted that the racing driver in question should be from this side of the pond. So we went to something called NASCAR? And we found one. We shipped him to England and then we introduced him to the complicated procedure which involves turning right."
—Jeremy Clarkson[src]
Michael 'Mike' Skinner (born June 28, 1957), referred to on the show by his fictional character The American, is a NASCAR driver and was the resident racing driver for The Grand Tour for the duration of the show's first season, before he was replaced with British racing car driver Abbie Eaton. Skinner logged a total of nineteen individual lap times around the Eboladrome during his tenure on The Grand Tour. 
Skinner's played an exaggerated self-righteous American character on the show, who was critical of almost anything that wasn't American-made and had a particular vendetta against communism. 
Skinner's character was not well received by the show's fans and he was scrapped from The Grand Tour before the second series premiered. On the 17th of November, 2017, as part of the promotional campaign for the second season,
a video was posted
to The Grand Tour's YouTube channel that showed Clarkson 'calling Skinner' to let him know that he had been let go.