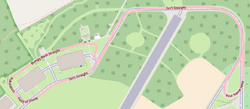 The Eboladrome is The Grand Tour's test track, so named because it is shaped like the Ebola virus. It is located at the former RAF Wroughton in Wiltshire, England.
Isn't Straight
Edit
From the starting line, cars make a slight left toward a series of two straight roads connected by a 45° right turn. The section ends with a 90° right turn to a short straight toward Your Name Here.
Your Name Here
Edit
A very tight left turn heading back to the Isn't Straight. As its name implies, sponsorship opportunities are open on this section.
Old Lady's House
Edit
Upon returning to the Isn't Straight, cars make a tight right and left turn toward the Bumpy Back Straight. This section gets its name from a house on the right side of the road. This section was modified from its original layout after an unexploded Second World War bomb was found embedded within the proximity.
Substation
Edit
A tight 90° left turn at the end of the Bumpy Back Straight, cars must stay planted on the road to avoid hitting a power station outside the track.
Field of Sheep
Edit
The final 90° left turn toward the finish line. Cars risk hitting a flock of sheep if they miss this turn.
Lap Times
Edit
References
Edit