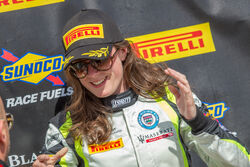 Abbie Eaton (born 2nd January, 1992) is a British professional racing driver from East Yorkshire and the current lap setter and test driver for The Grand Tour. Eaton replaced Mike "The American" Skinner in the second episode of the show's second season. Eaton's replacement of Skinner was not announced before the second series premiere and was first revealed when The Fall Guys premiered on the 15th of December, 2017. Eaton is the first, and currently, only, permanent female cast member on The Grand Tour.
Before she was officially confirmed as the show's new driver, May hinted at her identity by saying, "We tested loads of people and she was the fastest and the best and that's how it should be. To employ her for any other reason would be patronising".[1]
Outside of The Grand Tour, Eaton is a successful racing driver, having won the 2009 Thorney Motorsport Touring Car Championship and the 2014 AE Racing Mazda Mx5 SuperCup.
Times Logged
Edit
| Vehicle (Make, Model) | Time | Episode |
| --- | --- | --- |
| Mercedes-AMG GT R | 1:18.7 | "The Fall Guys" [02x02] |
| ... | ... | ... |
| ... | ... | ... |